19th August 2019 - Nayati Gains Number 3!
19-August-2019
19-August-2019 10:23
in General
by Admin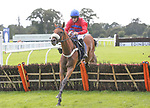 Nayati gained his thrid win of the season at Perth on Saturday also bringing up a treble for Brian Hughes.
We have a seriously busy evening at local track Bangor on Dee today.
We're kicking off with Carry On (B Hughes) in the 5:40. Then we have both See The Sea (B Hughes) and The Herds Garden (L Murtagh). Ofcourseiwill (B Hughes) runs in the 7:10 and then both Craig Star (T Gillard) and Handy Hollow (L Murtagh) in the 7:40. The evening rounds off with Artichoke Heart (H Brooke).
At Catterick werun Woven Quality (A Mullen) having a first run in a handicap and Double Esprit (G Lee).